fug4life wrote:
I lol'd, I knew you couldn't resist, what with L4D getting closer and closer.
It's true. I had that mapping itch again.

It's looking like they'll both be released around the same time, which is good, because I don't have a computer capable of running L4D yet
Quote:
Only suggestion for waking_dead. Is more fast zombies through out map.
I thinking of making a mapadd zombie style and I wanted Fast Zombies to be main npc. Reason, I actually like fighting them. The Best example of a Fast Zombie encounter that I find a joy everytime I get there is the last tunnel in W0rf0x's broken escape 01. I'm not very adventerous and normally do the same thing which is. Sit there picking of the fazt zombies that are over whelming my team mates who cant kill them quick enough.

And your going to hate me but final defense I would like more intense for a longer period of time before the end. waking_dead is a bit like AA the action really heats up just how I like it as some transporter comes to pick me up take me out of the fight! no damit the fight was just gettting interesting! I'd definately would like to see the intenseness for atleast last five minutes, I like it when we are starting to get overwhlmed. Basically same thing I said about antlion_attack.
Lol, ok, I understand that my definition of crazy-go-nuts battle isn't quite what your definition is. I'll try to adjust that for this map

The first main battle, which is on the steps of a parliament building (as you've probably guessed) should be a little bit tense, and quickly escalate, so expect to jump into the map with an epic battle on your hands.
Quote:
So on to this one yes looks great, not sure about the floor tile texture (bigger tiles, it looks a bit interior than street).
Go watch Predator 2 for some nice fastzombie scenes. I really like curve'y subway bends with crash tube train and lots of pulsating lights from lit to darkness! freezing meatfactory!

Infact I think Preadtor 2 is a great film for looking for nice set piece action!

Erm there is a map oc_paysan (Harvest like map) made by sven666 he has pumpkins in his map I think, I'm sure of it.
Sweet! Haven't seen that map anywhere, but I'll have a look for it.

Any ideas on where I can fish up some sandbag models?
I've seen Predator 2 and I love the action. Currently, I've got one or two scenes modified from certain movies, so I think the action will be good.

And yea, I'm planning on having more fast zombies in this one, as well as bloated zombies. I'm hoping to elevate the number and intensity of the zombies a bit too. Plus I've got these wicked sequences in mind too.... Yea, it should turn out good.

W0rf0x wrote:
NyHoK wrote:
Waking dead must have a missing wall somewhere because you finish the map in 10 minutes max
If someone is being a retarded rusher/exploiter, yes.
Grrr... yes, I'm not too happy about this. I played once with someone who managed to get to the end in less than twenty-five minutes. Pissed me off to no end because the other people were playing it very cautiously and "proper". I'm planning on a few anti-sprinting measures in this map, but it makes me annoyed that I have to add playerclips from here to space to keep speed-runners from getting overtop of them.
ronjonsh wrote:
Great map. I can't wait for the sequel.

On a quick tangent (it just popped into my head)....I think it'd be pretty cool if two or more mappers got together to create a series for OC. Almost like a full campaign that can be played on OC and showcases everything that this mod allows you to do. Bring all the great minds of OC together.
Well, Return to City 17 is a pretty big campaign for OC, but it doesn't REALLY showcase all of what OC has. Hey, I'd be up for teaming together and creating something epic. Though perhaps I should finish some of these other projects on the go...

----
Did some more work on it today instead of studying for my midterm, working on my English project, or getting over this cold. Changed the lights around after reading this interesting article:
http://developer.valvesoftware.com/wiki ... psychology
I was skeptical, but it really made some of the interior stuff a lot more unnerving.
These are all outdoor shots though, 'cause I'm still working on the indoors.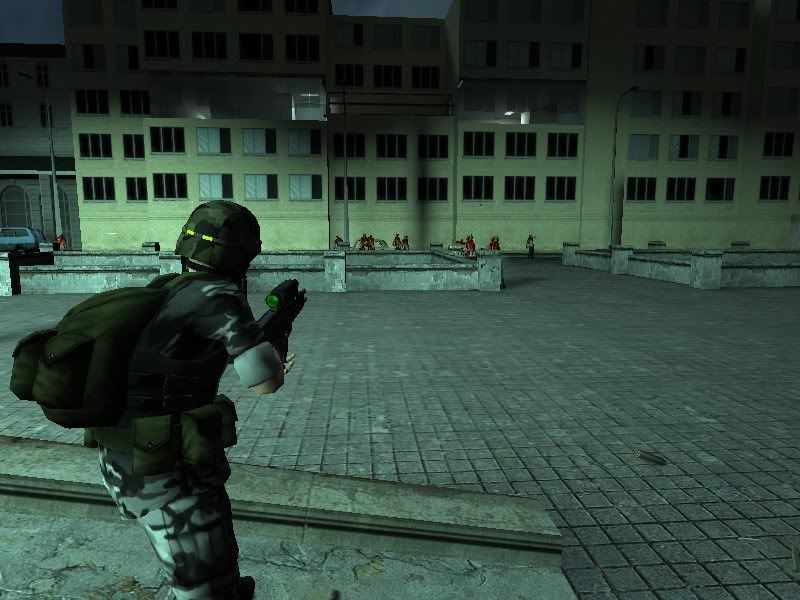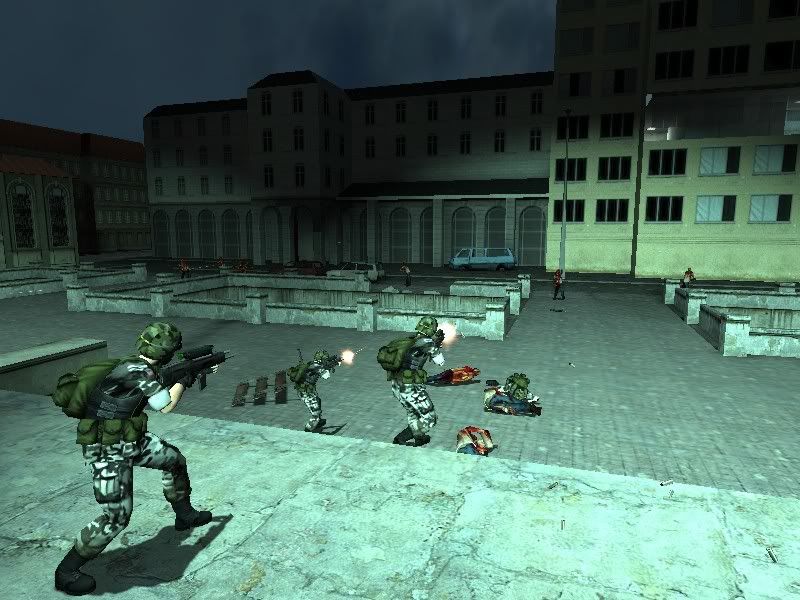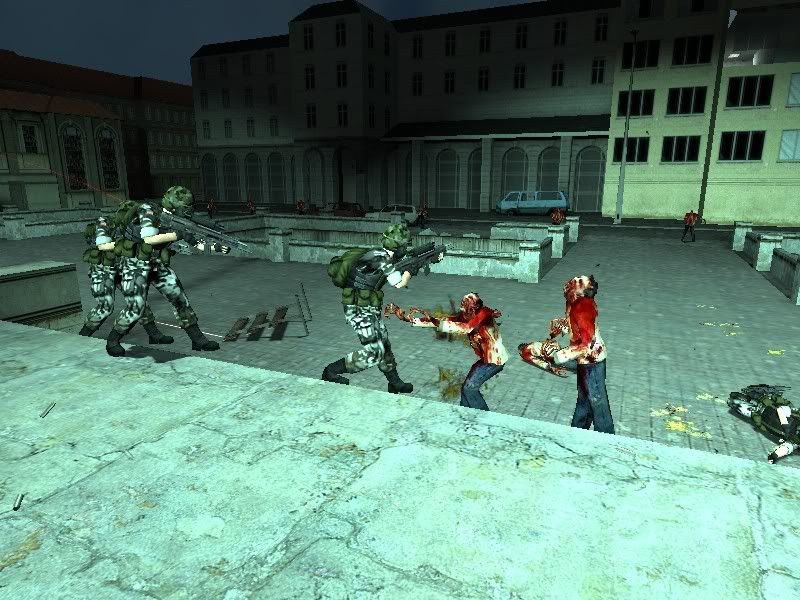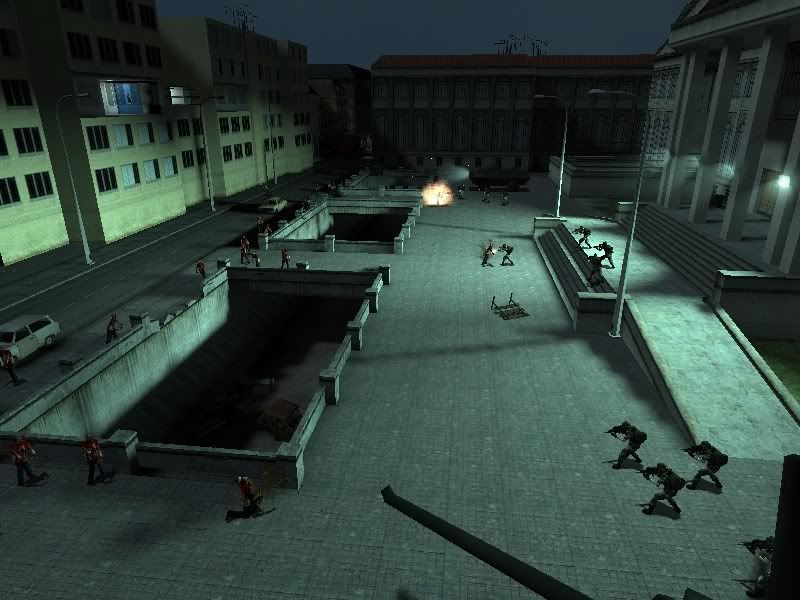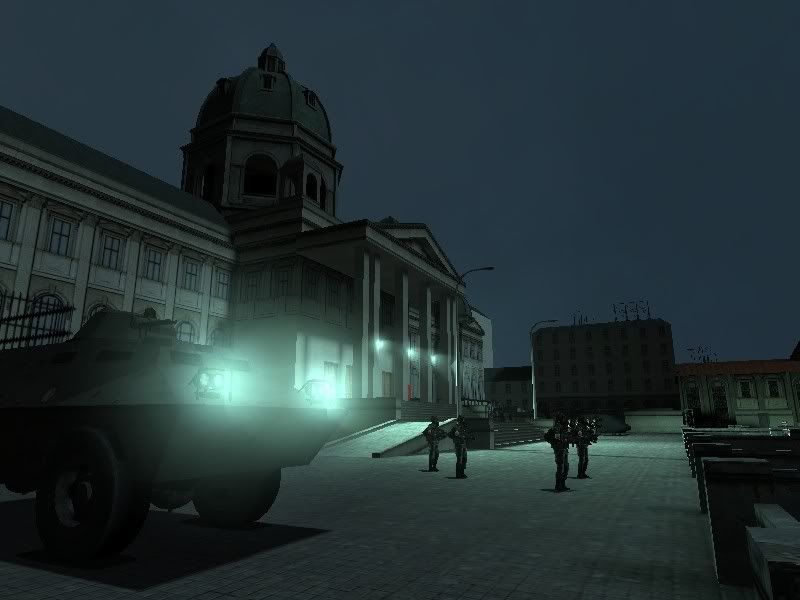 So other than sandbags, or military zombies, I'm wondering about certain map goals. The way I've got it set up in my mind would require the players NOT to be stupid, and for the most part that's true, but if they ARE, it might screw the whole map up. Any ideas on how to deal with this besides restarting the whole map (which I think people didn't like that much on return_c17_05).